There are a number of options available to you when you need help using Work for Impact. Depending on what you need, you can search our knowledgebase, contact our support team, or speak with the wider Work for Impact community.
Browse the Help Center
Visit the Work for Impact Help Center at any time to find useful answers and guides to help you get the most out of the platform.
You can access the Help Center via the link and the Get Help button in the footer of the Work for Impact website.


Share Feedback or Report a Bug
Found something that isn't quite right, or have ideas that you'd like to share with us? You'll find the Report a Bug and Share an Idea forms in the footer of the Work for Impact Website.

Ask the community
Join the discussion in the Work for Impact Community. Just find the relevant category and ask your question to be helped by platform experts and fellow users. Or search past conversations - your query has probably been asked by someone already!


Contact customer support
Reach out to our friendly customer support team anytime, by clicking the chat icon while using the Work for Impact website, or browsing the Help Centre.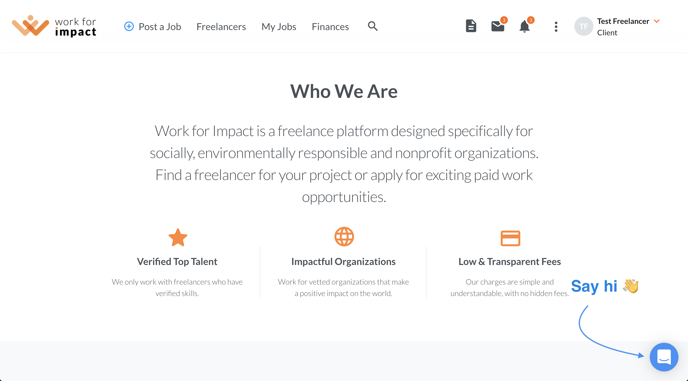 We'll reply in the chat, or send you what you need via email so you don't have to wait around for a response.
Email Customer Support
If you're issue isn't urgent you can email us at help@workforimpact.com and one of our team members will get back to you within 24 hours.